Home
»
Living Healthy »
Are You Eating Enough Carbs? Watch Out For These Signs Of Carbohydrate Deficiency
Are You Eating Enough Carbs? Watch Out For These Signs Of Carbohydrate Deficiency
A number of weight loss diet plans discourage people from consuming carbs. But carbs are extremely important for your health. It fuels your body, provides it with energy, and ironically, induces weight loss.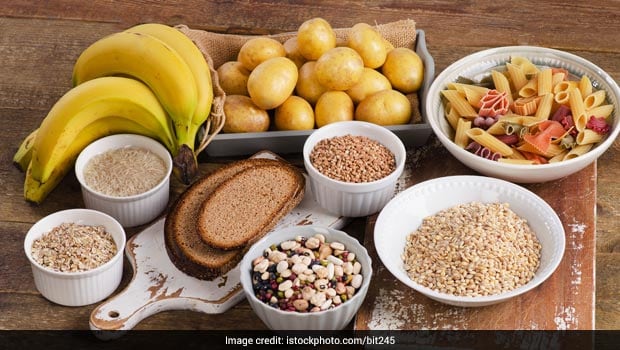 Carbs can be helpful for weight loss if eaten in the right quantity
HIGHLIGHTS
Not eating enough carbs can harm your body in many ways
Carbs are the main source of energy for the brain and nervous system
A low-carb diet can help you lose weight quickly
In the world of nutrition, carbs are the second most defamed macronutrient after fats. A number of weight loss diet plans discourage people from consuming carbs. They either ask you to go low-carb or carb-free. But let's get one thing straight; carbs are extremely important for your health. This macronutrient fuels your body, provides it with energy, and ironically, induces weight loss too. This is contrary to popular belief which says that carbs are the main culprit behind
weight gain
. Carbs can be helpful for weight loss if eaten in the right quantity. So when aiming for weight loss, try to cut down your carb intake if it is over 2000 calories in a day. Aim for 225 o 335 calories in a day instead of 2000. When you consume carbs, your body breaks it down into smaller units of sugar and releases it into your bloodstream. This is then transported to your brain, muscles and cells and fuels them with energy. But when you do not get enough carbs, your body starts to respond in strange ways.
Also read:
Low-Carb Diet May Improve Eyesight: 6 Health Benefits Of Low Carb Diets​
Here are 10 signs that you are not eating enough carbs.
1. You experience frequent headaches and nausea
Limiting your carb intake beyond 50 grams in a day can put your body into ketosis. Ketosis is a process where your body starts to use fats and proteins to produce energy. This can trigger headaches and nausea. The key to going low-carb is to stick to a limited, yet healthy amount of carbs which helps you lose weight but does not mess with your overall well-being as well.
2. You feel cold all the time
When you go on a low-carb or a no-carb diet, your body after some time starts to show symptoms of hypothyroidism. This happens because the thyroid gland needs glucose to produce T3 out of T4. T3 is the hormone which helps your body produce heat and send it to the cells. When your body falls short of this hormone, you end up feeling cold all the time. A part of the solution for this is increasing carb intake.
3. Irregular and painful menstrual cycles
A low carb intake, in extreme cases, can give painful and irregular periods to some women. When the female body does not feel fed, it shuts down the reproductive system in order to protect the body from pregnancy in a dangerous time. One of the best ways to make the body feel fed is to eat more carbs. Carbs can help in balancing the hormone levels and prevent the estrogen distress which could be giving you those painful cramps and irregular periods.
4. You are constantly out of energy
Carbs are the main source of energy for your body. So when you go on a low-carb diet or give up on carbs completely, you are ought to feel fatigued and out of energy all the time. Even on a low-carb diet, the initial few days are going to make you feel tired constantly.
5. Your gym sessions seem ineffective
When you constantly feel out of energy, it is difficult for you to give your best in the gym. Your ability to run on the treadmill goes down and you perform lesser number of reps for every exercise. Carbs make it easier for you to go through high-intensity workout sessions. So, in order to spend more hours in the gym, it is important for you to fill up on carbs. Athletes engaged in endurance sports practice carbohydrate loading a day before the game. This is because carbs keep them energized for the upcoming day.

Also read: What You Should Eat Before Hitting The Gym
6. Halitosis (bad breath)
Giving up on carbs means that your body does not have anything to burn for producing energy. Therefore, it starts to use fats and proteins for energy. This process, also known as ketosis, gives you a bad breath in the initial few days.


When your body is in ketosis, the used fats and proteins give you bad breath.

Also read: Rice Bran Oil: Top Reasons Why You Should Cook Food In Rice Bran Oil For Weight Loss

7. You feel constipated every now and then

Carbs include foods like lentils, chapattis, beans and vegetables. These are high-fibre foods which keep your bowel movements in check. So when you give up on carbs, the primary sources of fibre for your body are no longer consumed. This makes you feel constipated and your digestive tract goes through a great deal of inconvenience. Complex carbs like cereals, pastas, and breads keep your bowel movement in check and should not be given up.

Also read: Best Low-Carb Foods You Must Have For Quick Weight Loss
8. You are experiencing hunger pangs more often than ever

When you give up on carbs, you give up on high-fiber foods. Due to this, you do not feel full for longer and experience frequent hunger pangs. This is why people on a low-carb diet have such a hard time to lose weight.


Giving up of carbs makes you have less hunger pangs
9. You are experiencing too many mood swings
One of the most important functions of carbs is releasing serotonin in the body. This is the happy hormone, a feel-good chemical in the brain, thereby keeping you happy. But when you are eating too less carbs, your body stops producing the required amount of serotonin. This gives you frequent mood swings. Lack of energy and frequent hunger pangs could also give you these mood swings.
10. Your weight loss progress has come to a standstill
A low-carb diet, popularly known as a keto diet, is touted to be one of the best and most effective methods of losing weight. However, after some time, weight loss can come to a standstill. The reason responsible for it is improper carb consumption. Eating lesser carbs forces your liver to release more sugar. Due to this your blood sugar level increases. To control the sudden spike, the pancreas releases insulin, the fat storing hormone. As a result, instead of losing weight, you end up storing fats.
Disclaimer: This content including advice provides generic information only. It is in no way a substitute for qualified medical opinion. Always consult a specialist or your own doctor for more information. NDTV does not claim responsibility for this information.
DoctorNDTV is the one stop site for all your health needs providing the most credible health information, health news and tips with expert advice on healthy living, diet plans, informative videos etc. You can get the most relevant and accurate info you need about health problems like diabetes, cancer, pregnancy, HIV and AIDS, weight loss and many other lifestyle diseases. We have a panel of over 350 experts who help us develop content by giving their valuable inputs and bringing to us the latest in the world of healthcare.