Yes, Diabetes Can Affect Your Sex Life. Make It Stop Now
Sex is an important part of life and relationships. But diabetes can affect a man's sex life. It is important to understand that there is not just one reason a man with diabetes might be experiencing sexual health issues.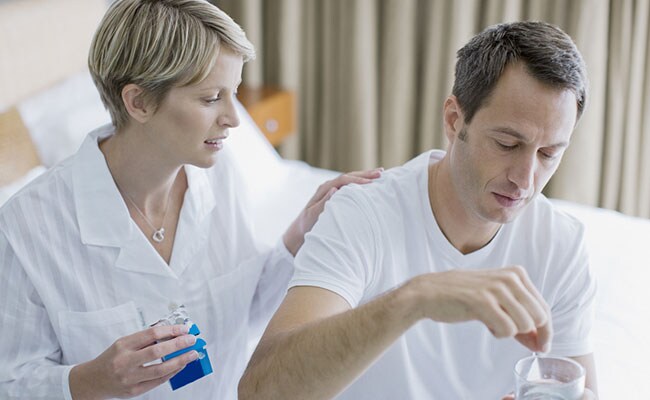 Diabetes and men's sexual health
HIGHLIGHTS
Diabetes can affect a man's sex life
Some men with diabetes have impotence, also called erectile dysfunction
Over half of all men with diabetes are affected with erection problems
Historically, men have not been comfortable discussing issues about their health, particularly conditions like
diabetes
, depression or sexual dysfunction. This has resulted in shorter and less healthy lives for men in the United States compared to women.
But times have changed, and so have men. Today's men have a strong grasp of their disease and related conditions, actively engage with their healthcare providers, and proactively manage their health. We encourage all men with diabetes to take the "modern man" challenge: get out, get active, get informed!
Sex is an important part of life and relationships. But diabetes can affect a man's sex life. It is important to understand that there is not just one reason a man with diabetes might be experiencing sexual health issues.
1.Sexual Implications of Emotional Health
2.Erectile Dysfunction
3.Low Testosterone
1Sexual Implications of Emotional Health
Emotional factors can interfere with sexual feelings as well and often lead to or worsen sexual dysfunction. These include:
Depression
Anxiety
Stress
Fatigue
Poor communication or conflict with your partner
Sexual and emotional issues don't just impact you; they affect your personal relationships and can create challenges of trust, intimacy, and closeness.You may feel distant or withdraw emotionally and physically because you may not feel enjoyment or you may have a fear of failure when it comes to performing sexually.Your partner may wonder if you are losing interest, or if you don't want to spend time with friends or family. These things may impact your self-esteem and the self-esteem of your partner.Understanding how your sexual health can be affected by diabetes, stress, cardiovascular issues and low testosterone levels can help you and your health care providers manage this important life issue successfully.
________________________________________
2. Erectile Dysfunction
Some men with diabetes have impotence, also called erectile dysfunction or ED. ED is when a man can no longer have or keep an erection.
What Causes ED?
Over time, blood vessels and nerves in the penis can become damaged. ED can also be caused by other conditions, such as prostate or bladder surgery. Certain medicines, such as some pills for high blood pressure or depression, may cause ED. Pills for stomach ulcers or heartburn may also cause it. Ask your health care provider if ED is a side effect of any of your medicines. There may be other pills you can take. Remember, talk with your health care provider or diabetes educator before trying any treatment for ED or before stopping any of your medicines.
Lifestyle choices that contribute to heart disease and vascular problems also increase the chances of ED. Smoking, being overweight, and being inactive can contribute to ED. Experts believe that psychological factors such as stress, anxiety, guilt, depression, low self-esteem, and fear of sexual failure cause 10 to 20 percent of ED cases.
Talk About It!
It's not easy to accept that you have ED. And it can be even harder to talk about it. Talking about ED is the only way to learn about treatments and get the help you need. It's normal to feel embarrassed discussing such an intimate and personal issue, but your health care provider is a professional who is there to help you, not judge you.
Explain to your health care provider the symptoms you have been experiencing
Tell your health care provider your concerns and ask him if it could be ED or another sexual disorder
Inform your health care provider of any other emotional or physical changes you have experienced
Review with your health care provider any medications you may be taking which may be causing these symptoms
Ask your health care provider about treatment options and which he recommends to fit your needs
ED Treatment Options include:
Taking prescription pills
Putting medicine called prostaglandins into your penis
Using a vacuum tube and pump to draw blood into the penis
Surgery to put a device in the penis or to fix blood vessels so more blood will flow to the penis
3.Low Testosterone
Low testosterone is a common condition that often goes undiagnosed because its symptoms are similar to other conditions.
If you have type 2 diabetes, you are twice as likely to suffer from low testosterone as a man without diabetes.
The symptoms of low testosterone can include:
diminished interest in sex
erectile dysfunction (ED)
reduced lean body mass
depressed mood
lack of energy.
If you are experiencing diminished interest in sex, ED or multiple symptoms together such as lack of desire to have sex and lack of energy you should talk to your doctor.
Your physician can check your testosterone levels with a simple blood test. If you do have low testosterone it can be easily treated by your physician. There are several treatment options available such as gels, patches or injections that increase the amount of testosterone in your body.
You can meet endocrinologist/Dr Jha who specializes in treating conditions like low testosterone or arrange a call with him
I can't get/maintain an erection any more. I'm too embarrassed to talk to the doctor/nurse about this. What should I do?
Erectile dysfunction or impotence are medical terms for the inability to get or sustain an erection for sexual intercourse. It can be caused by tiredness, stress, too much alcohol, certain medications and diabetes. All men experience difficulties in achieving an erection at some time in their lives, but about one man in every ten has continuing erection problems and over half of all men with diabetes are affected.
Sex is an important part of a relationship for people and an unfulfilling sex life can cause problems within a relationship, with feelings of frustration, hurt and rejection. Many couples maintain a conspiracy of silence about the issue. They are reluctant to talk about it for fear of causing each other more stress. Open communication is important as discussion can lead to greater understanding of each other's perception of the problem and a greater understanding of each other's sexual and emotional needs.
There are many treatments available for erectile dysfunction and you may want to try out alternatives before you decide on the one which best suits you and your partner. To access these treatments, the best person to speak to is your doctor but in the first instance, you may wish to talk through the options with a Careline Counsellor. The Careline staff are trained counsellors who have the time to provide you with information and support. The service is confidential and you can choose to remain anonymous. You can also contact the Sexual Dysfunction Association.


DoctorNDTV is the one stop site for all your health needs providing the most credible health information, health news and tips with expert advice on healthy living, diet plans, informative videos etc. You can get the most relevant and accurate info you need about health problems like diabetes, cancer, pregnancy, HIV and AIDS, weight loss and many other lifestyle diseases. We have a panel of over 350 experts who help us develop content by giving their valuable inputs and bringing to us the latest in the world of healthcare.