Breast Cancer: Everything You Need To Know
Breast cancer: Any change or mutation in cells in breast tissues can cause breast cancer. New cases of breast cancer are more common in women than men. Incidence of male breast cancer is quite rare.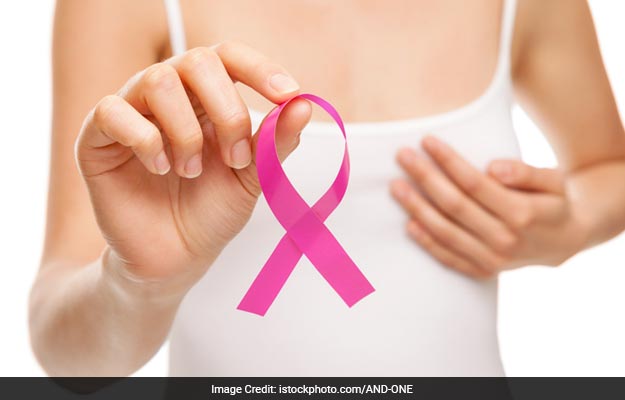 Breast cancer is more common in men than women
HIGHLIGHTS
Being overweight or obese can increase risks of breast cancer
Alcohol abuse can increase risks of breast cancer
Risks of breast cancer increase with age
Breast cancer is one of the most common kinds of cancer among women, after skin cancer. In the US, 1 in every 8 women develops breast cancer in her lifetime. After lung cancer, breast cancer is the second leading cause of cancer deaths. However, deaths caused by cancer have come down considerably in the past few years. This is because of increased awareness rate and screening of breast cancer, along with better treatment. Any change or mutation in cells in breast tissues can cause breast cancer. The risks increase as and when the cells reproduce and increase in number. These abnormal cells begin to cluster and form a tumour. A tumour becomes cancerous when the cells invade other parts of the breast or spread to other parts of the body through blood stream. In most cases, breast cancer begins in glands which produce milk, also known as lobules. Lobules are the tube-shaped ducts which carry milk to the nipple. At times, the cancer begins in fatty and fibrous connective tissue of the breast. This is only in rare cases though. New cases of breast cancer are more common in women than men. Incidence of male breast cancer is quite rare. But anyone with breast tissue can develop breast cancer.

Causes of breast cancer
Genetic mutation in DNA of breast cancer cells can cause breast cancer. The mutations may either develop randomly over time, may be inherited, or maybe the result of environmental exposures of lifestyle factors. Breast cancers usually happen to women at over above the age of 50. Following are some common causes of breast cancer:
1. Age and gender
Women are more prone to risks of breast cancer than men. A woman above the age of 40 is at higher risks. The risks tend to increase with age.

Also read: Can Mammograms Detect Breast Cancer?
2. Race or ethnicity
Yes, breast cancer is more common in certain races like Asian, African American and Hispanic women. African American women are likely to have more aggressive kind of breast cancer at a younger age. Hispanic and African American women are more likely to have cancer deaths than white women.
3. Gene mutation
Any gene mutation in breast cancer gene 1 (BRCA1) and breast cancer gene 2 (BRCA2) can lead to breast cancer. Any defects in these genes further increase risk of breast cancer.
4. Family history
If you have a close blood relative with breast cancer, you might be prone to risks of breast cancer as well. The risks are doubled in case your mother, daughter or sister has it. The risks are triple if you have 2 or more close relatives with breast cancer.
5. Weight
Overweight or obese women are at higher risks of breast cancer. This might be because their oestrogen levels are higher.

6. Changes in breast
Women who have dense breasts or those who have a personal history of breast lumps or has had breast cancer previously is at higher risks of breast cancer.
7. Hormones
Having early menstrual periods and late menopause or both increase risk of breast cancer. Longer exposure to oestrogen, the female hormone can stimulate growth of cells in the breast, thus increasing risks. Use of hormone therapy after menopause can increase risks of breast cancer. Increased use of birth control pills can further increase risks.
8. Pregnancy
Having no children before 30 years of age can increase risks of breast cancer.
9. Alcohol
Women who are alcoholic or drink more alcohol than usual, are at higher risks of breast cancer. Alcohol is known to increase risks of other cancers too. Alcohol consumption must be kept to a bare minimum for good health and prevention of cancer.
Exposure to radiation
Woman's risk of developing breast cancer is higher if she has had chest radiation as a child.

Also read: 6 Best Foods To Cut Breast Cancer Risk
Symptoms of breast cancer
Symptoms of breast cancer may vary from person to person. If you know how your breasts look and feel normally, you might be able to know if you have breast cancer of not. Mostly a person with breast cancer will not experience anything different. If you feel a lump or an area of thickening breast tissue, you must see a physician to check for breast cancer.
A change in the shape of size of your breast may indicate breast cancer. An area with dimples on the breast or a fluid leaking nipple may also indicate breast cancer. Warning signs of breast cancer may not be visible at an early stage. A lump too is too small to be felt initially. Screening of breast cancer should thus be done using mammography.
Some early signs and symptoms include a lump in the breast or armpit. This lump will usually be painless. The lump can either be soft or hard. Remember that not all lumps are cancerous. Some of them can also be because of fluid-filled cysts.

Swelling, thickening or shrinkage of breasts can also lead to breast cancer. Breast skin taking the appearance of an orange peel may also signal towards breast cancer. Having a thick, red, scaly or an inverted nipple may indicate breast cancer. An inverted nipple is one which flattens or turns inward.
Clear or blood discharge from nipples can also signal breast cancer. Any redness of unusual warmth should also be checked. It could signal inflammatory breast cancer. In case you experience swollen lymph nodes around collarbone or arms could be a sign that breast cancer has spread.

Also read: Who Gets Breast Cancer And Who Will Survive It?
Breast cancer treatment
Treatment of breast cancer will depend on the type of breast cancer, the stage it is in and its sensitivity to hormones. The patient's age, health and other factors will also play a role in determining how breast cancer will be treated. Radiation therapy and surgery are two main treatment for breast cancer.
There are 2 kinds of surgeries: Breast-conserving surgery or lumpectomy and mastectomy. Lumpectomy involves removing only the cancerous part of the breast. Mastectomy involves removal of entire breast along with some surrounding tissue. Lymph nodes may be removed as part of the surgery or a separate operation.
Disclaimer: This content including advice provides generic information only. It is in no way a substitute for qualified medical opinion. Always consult a specialist or your own doctor for more information. NDTV does not claim responsibility for this information.
DoctorNDTV is the one stop site for all your health needs providing the most credible health information, health news and tips with expert advice on healthy living, diet plans, informative videos etc. You can get the most relevant and accurate info you need about health problems like diabetes, cancer, pregnancy, HIV and AIDS, weight loss and many other lifestyle diseases. We have a panel of over 350 experts who help us develop content by giving their valuable inputs and bringing to us the latest in the world of healthcare.