Home
»
Women's Health »
Have Polycystic Ovaries (PCOD)? Now Bid Goodbye To Your Pills With This Diet And Lifestyle Changes
Have Polycystic Ovaries (PCOD)? Now Bid Goodbye To Your Pills With This Diet And Lifestyle Changes
PCOD/PCOS is a common hormonal disorder in women which can lead to weight gain and irregular periods. While most women depend on pills to deal with it, these simple changes in your lifestyle will help you deal with the condition in a better way.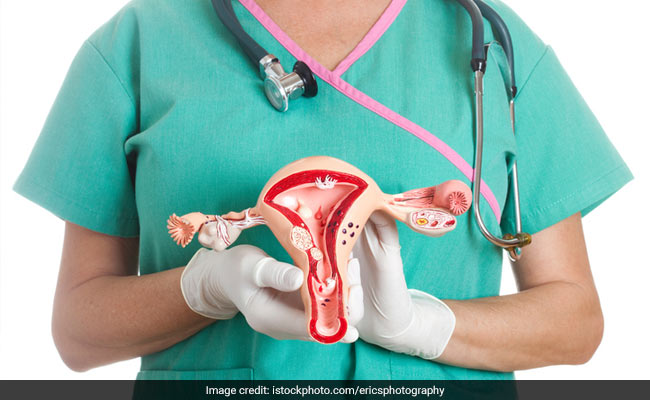 PCOD can be dealt with by bringing a few changes in your lifestyle
HIGHLIGHTS
Irregular periods and male hair patterns are symptoms of PCOD
Modern-day lifestyle is largely responsible for conditions like PCOD
PCOD patients should workout regularly
PCOD (Polycystic Ovarian Disease) and PCOS (Polycystic Ovarian syndrome) are among the most common hormonal disorders affecting women of the 21st century. They are fast assuming epidemic proportions owing to the changing lifestyles, and they are the most common excuse given nowadays for weight gain (though these can be managed with disciplined eating and lifestyle modifications).
The symptoms of PCOD include irregular periods, male hair patterns, fat storage around the abdomen and infertility. Though both involve ovaries become polycystic and the syndrome (PCOS) has more severe manifestations.
While we may blame our ovaries for not behaving well, it's actually the other way round. Though there is a genetic predisposition which increases the risk, PCOD/PCOS can rightly be classified as a 'lifestyle disorder'. It's largely our modern lifestyle which throws our hormones out of sync while wreaking havoc on our ovaries.
The rampant use of plastics and other chemicals is altering our body like never before. A class of chemicals, structurally similar to the female hormone estrogen, mimics the action of estrogen and disturbs the delicate hormonal balance.
Based on practical experience, some stages of life can be identified which trigger hormonal imbalances. These include girls higher classes in school (when girls have no time to exercise and only sit and study. They have erratic sleeping hours and mostly eat junk to stay up late night); girls who stay away from home for higher studies and jobs (and have no access to freshly cooked home food, so they rely heavily on junk/ processed/ packaged foods); and of course marriage and motherhood (when female hormones go on a roller coaster ride).

Also read: How To Get Pregnant If You Have PCOD?
Insulin insensitivity too is very closely linked with PCOD, hence the frequent use of Metformin (anti-diabetic drug) to treat PCOD. However, it takes more than a pill or an isolated diet plan to support your ovaries. It calls for holistic lifestyle management.
So I am sharing here some approaches which together form the mainstay of dealing with PCOD/PCOS and insulin sensitivity. That's the only way you'd ever be able to say bye-bye to your pills:
1. Nutritional approach: Deficiency of micronutrients contributes to insulin insensitivity and compromise ovarian function. So,
Completely stay away from processed/ refined cereals (which have a high glycemic index or GI). Switch to wheat, rice, jowar, ragi, barley (which have low GI) and enjoy your roti, parantha, pulao, biryani, dosa, poha, upma etc.
Eat an adequate amount of lean proteins like dal, milk, eggs, fish, yogurt, cheese, paneer, lassi, sprouted legumes.
Include good sources of omega-3 and omega-6 present in nuts, seeds, ghee, olives, coconut etc. Our body needs essential fatty acids for absorption of fat soluble vitamins like A, D, and E.
Alpha-lipoic acid improves glucose uptake in cells, promotes weight loss and improves the health of ovaries. It is found in flaxseeds, walnuts, spinach, broccoli, peas, Brussels sprouts etc.
Micronutrients like selenium, zinc, chromium, magnesium, niacin, and riboflavin improve sugar control and promote hormonal balance. These can be obtained from a variety of whole grains, nuts, green leaves, fresh fruits and veggies, egg, seafood etc.
Vitamin B12 is essential to support the function of ovaries. So include dairy (especially curd, paneer), eggs, seafood, and sprouted/fermented items.
Calcium in abundant supply helps to overcome premenstrual cramps.
Include supplements of above-mentioned nutrients as diet may not provide enough because their requirement is above normal.
Most importantly, eat local, seasonal, freshly prepared food items, stay away from food items that have long ingredient lists as they are 'processed' and have a number of additives (preservatives, artificial colors, flavor enhancers et al).
2. Exercise strategies: Regular workouts are non-negotiable. They are essential to burn off fat stores for hormonal balance and regular ovulation. A minimum of 150 minutes a week is recommended. Divide your time between strength training, cardio exercises and yoga for optimal results. Just like a diet, your exercise must be balanced too.
3. Sleep: Adequate sleep is non-negotiable too. Sleeping at a more or less fixed time every day and for an adequate number of hours is a prerequisite to keep hormones in sync.

Also read: Lack Of Sleep May Reduce Fertility And Cause Weight Gain. Signs That You're Sleep Deprived
4. De-stress yourself: Love yourself more than anyone else, prioritize your health, learn to say no, take time out to exercise and relax. Pursue your favorite activities, learn a new skill, and never ignore your body signals.
So, it's certainly possible to wean yourself off the pill and restore hormonal balance by implementing and adopting permanent lifestyle modifications.
Wishing you all lots of patience, self-discipline and persistence as you endeavor to adopt these changes for good!
DoctorNDTV is the one stop site for all your health needs providing the most credible health information, health news and tips with expert advice on healthy living, diet plans, informative videos etc. You can get the most relevant and accurate info you need about health problems like diabetes, cancer, pregnancy, HIV and AIDS, weight loss and many other lifestyle diseases. We have a panel of over 350 experts who help us develop content by giving their valuable inputs and bringing to us the latest in the world of healthcare.