What Are The Various Skin Changes Caused By Smoking?
If you smoke tobacco then you should understand that you are causing a lot of damage to your skin. It is important to control on your tobacco consumption.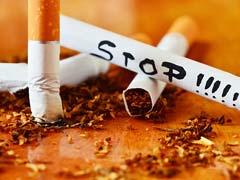 Skin and hair in a human body are exposed to different kinds of polluting and environmental noxious agents. There are several particles and substances that are harmful to both hair and skin. Smoking is associated with harmful impacts on heart, lungs, and skin. It causes premature aging, delayed wound healing, infections, and skin disorders like hidradenitis suppurativa, psoriasis, and cutaneous lupus erythematosus. Here is a feature dedicated to skin changes that are caused by smoking. If you smoke, you should read and understand, what damage you are causing to your skin.
How does smoking damage the skin?

Smoking causes oxidative stress and thus, insufficient oxygen makes the skin resulting in blood vessel occlusion and tissue ischaemia. Some of the damages that happen to your skin include:
Smoking and aging skin
Temporary yellowing of fingers and fingernails
Discolored teeth
Black hairy tongue
Facial wrinkles and furrows
Slack jawline and baggy eyelids
Uneven skin coloring - greyish, yellow with prominent blood vessels (telangiectasia)
Dry and coarse skin
Smoking affects the aging of skin

It is not certain exactly how smoking causes early aging of the facial skin. Theories include:
Skin getting burned from the heat while smoking a cigarette
Elastic fibres of the skin getting changed (elastosis )
Vasoconstriction or narrowing of blood vessels
Reducing moisture in the skin
Reduction in vitamin A levels
Smoking causes delays in wound healing and also causes problems like surgical wounds and skin injuries. In addition, it increases the risk of graft or flap failure, wound infection, death of tissue and blood clot formation. Some of the reasons for this could be:
Vascoconstriction and lack of oxygen reaching skin cells
Delayed migration of keratinocytes
Reduced collagen synthesis
Delayed growth of new blood vessels within the wound
Smoking causes development of leg ulcers, diabetic foot ulcers, arterial ulcers and calciphylaxis