Diet Instructions For Patients With Diabetes
Even if you're trying to reduce your risk of diabetes or manage a pre-existing problem, you can still enjoy your favorite foods and take pleasure from your meals, suggests Dr Sujeet Jha. It is important for diabetics to keep a check on what they eat and when
HIGHLIGHTS
Eating right is a key step in preventing and controlling diabetes
Diabetics have to be careful about what they eat when
People with more weight around the tummy are more insulin resistant
There is much controversy regarding what diet to recommend to people suffering from diabetes mellitus. The diet most often recommended is high in dietary fiber, especially soluble fiber, but low in fat (especially saturated fat).
Eating right is a key step in preventing and controlling diabetes. Fortunately, whether you're trying to reduce your risk of diabetes or manage a pre-existing problem, you can still enjoy your favorite foods and take pleasure from your meals.

Also read: These Are By Far The Best Yoga Asanas To Keep Your Diabetes Under Control
There are so many healthy traditional ingredients available in Indian market which increases the chances of eating really healthy, such as an array of spices, ginger, garlic, dal (pulses), chana, rice, wholemeal chana atta(flour), jowar/ millet/ bajra atta(flour); vegetables like bhindi, brinjal; fruits like papaya, mango (it's not an error in printing). The concern is the quantity of the food, quantity of ghee (saturated fat) in the food which we eat in addition to the wrong cooking methods.

Although it is important to follow a balanced eating plan, it is equally important to consider the foods that influence one's blood sugar levels and weight.
For people with diabetes, healthy eating is not simply a matter of "what one eats", but also "when one eats". Speak to your Diabetes Dietician for more individual advice.Current diet advice focuses on a low sugar diet, low fat diet with weight loss.

Also read: A Game Changer For Diabetics: Phone Based Artificial Pancreas To Combat Diabetes
Research has shown that people carrying more weight particularly around the tummy are more insulin resistant and may struggle to achieve good diabetes control. As a consequence of a higher calorie intake and reduced activity levels, our population is becoming overweight and the incidence of Type 2 Diabetes has increased. It has been proven that 8 out of 10 people with diabetes are overweight. Just 10% weight loss can drastically lower the blood glucose levels (Adapted from www.leicestershirediabetes.org.uk Diet for Asians)
The American Diabetes Association recommends that people who suffer from diabetes must include food from each of the 4 major food groups in their diet:
Vegetables such as lettuce, spinach, green beans, broccoli, cauliflower, cabbage, carrots, and fruits including berries and apples.
Whole grains, breads and cereals like, wheat, brown rice, barley, bran and oats.
Dairy products like skimmed or low-fat milk, yogurt, and non-fat cottage cheese.
Proteins including fish, poultry, meats, eggs, nuts, tofu and dried beans.
Balance your meals with all the food groups and make veggies the largest part of the meal. Eating carbs along with protein or a little fat helps reduce the impact on your blood sugar levels.
Also read:
Optimal Levels Of Vitamin D In Childhood Cuts Risk Of Diabetes: Top 10 Sources of Vitamin D​
Healthy Tips
The aim is to get 50-55% energy from carbohydrates, 30% from fats (visible and invisible) and 15% from proteins.
It is important to increase the intake of complex carbohydrates & fibre rich food (e.g. roti compared to nan made of maida) in the diet (with each meal & snack) which would limit the rapid absorption of the carbohydrate in the system. Food like rice (preferably brown rice), wholemeal chana atta, and jowar / millet / bajra atta should be taken instead of maida (white flour) based roti or nan.
It's healthier to swap to unsaturated oils such as Rapeseed / Corn oil / Sunflower oil from saturated ghee / butter in cooking. We tend to pour oil straight from the bottle which should be avoided and a measured quantity of oil with a tablespoon should be used. Aim for about one to two tablespoons of oil for a dish that serves about four to six people. You must skim off the excess oil off the curry with a spoon or dabbing it with a kitchen towel.
Paneer, full of fat and it's difficult to find a low-fat alternative for it unless one likes tofu. Using less quantity or making it at home with low fat milk can be helpful.
Using yoghurt in curry dishes or korma is advisable than using creams or butter.
Try a handful of nuts or fresh fruits instead of fried snacks like 'bhujias' or chips.
Sugary products are high in fats & calories and are not very useful if you're trying to lose weight.
If you're in the habit of spreading butter or ghee on roti or chapattis, why don't you try this? Just spread it on one of the chapattis, put the other one on top and rub them together. That way you're cutting it by half.
Instead of frying samosas you can try grilling them or can brush some oil over both sides of the samosa and bake in the oven. When they come out, they're brown and crispy and will absorb much less fat than they would have if you'd deep fried them.
One must avoid taking sweets like desserts, mithais like barfi, gulab jamun or peda as all of this increases weight.
Drinks like nimbu pani with sugar (lemon water), sharbat, coke or pepsi should be avoided as its pure sugar and can make one put on weight. Instead, one must take diluted fruit juices or fresh lime water / soda (can add sugar free - refer to our sugar substitutes card), buttermilk, soups without cream, mango panna, coconut water or diet coke/pepsi.
Eating too much salt can put one to the risk of developing high blood pressure. When we cook, we tend to pour salt straight from the container. How about measuring it with a teaspoon and gradually using less? Spices such as garam masala, haldi, jeera, dhania, can be used to flavour the food. Even lime and lemon juice can help you to use less salt.
Fruits and vegetables
People have this misconception that people with Diabetes can take biscuits but not fruits. For instance, one average size banana has about 110 calories and fat content as low as 1% as compared to 3-4 Marie biscuits which have 12% fat content or more.
The role of fruits in preventing heart disease is well established and one must not stop taking them just because they are sweet. In Diabetes, eating sweet fruits like mangoes is not as bad as you may think.
Fibres (fruits & vegetables) slow down the absorption of carbohydrates in the system, so the glucose rise in the blood stream is gradual rather than sudden. The food with high glycemic index should be avoided like water melon, cornflakes, maida, suji based products compared to roti.
As per WHO recommendation, to ensure adequate and balanced nutritional intake, one must take 5 servings of fruits and fibre in a day.
The key to a diabetes diet is eating in moderation, sticking to regular mealtimes, and eating a variety of fruits, vegetables, and whole grains.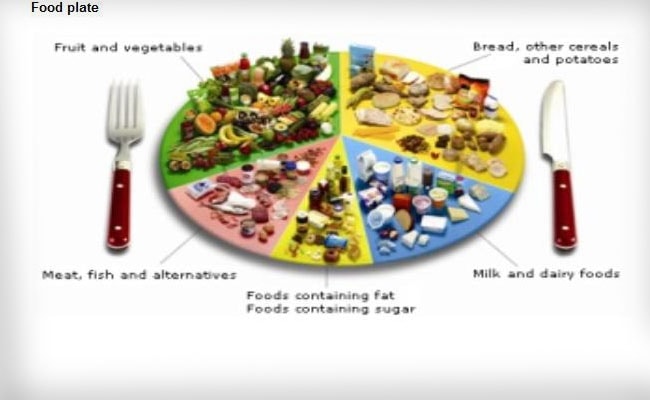 Glycemic Index (G.I.)
The Glycemic index or GI is a measure of the effects of carbohydrates on blood sugar levels. Carbohydrates that break down quickly during digestion and release glucose rapidly into the bloodstream have a high GI; carbohydrates that break down more slowly, releasing glucose more gradually into the bloodstream, have a low GI.
Most high protein meats, fish, poultry, eggs and dairy products as well as fats and oils are nearly zero on the Glycemic Index. Most fruits, nuts and all green vegetables have low Glycemic index. Refer to glycemicidex.com for more details.
Foods with a quick conversion to blood sugar: G.I. 70 or more
Food with a medium conversion to blood sugar: G.I. 69-56
Foods with a slow conversion to blood sugar: G.I. 55 and below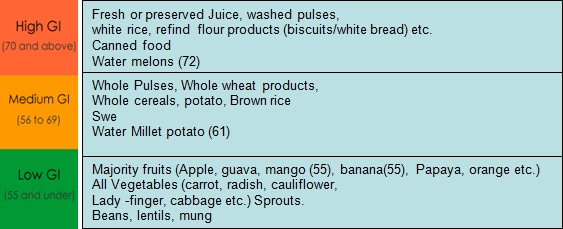 House hold measures
I cup= 150ml
I glass= 200ml
I katori=100 ml (Medium Size)
I tea spoon= 5gms
1 tablespoon=15gm
Diet prescribed
1gm protein and carbohydrate = 4 calories
1gm fat contains = 9 calories
Calorie....................................... Fibres- 25-40 gms
Proteins........................................ Fats...10-15gms
(Dr. Sujeet Jha is the Director of Institute of Endocrinology, Diabetes and Metabolism at Max Healthcare)
Disclaimer: This content including advice provides generic information only. It is in no way a substitute for qualified medical opinion. Always consult a specialist or your own doctor for more information. NDTV does not claim responsibility for this information.
DoctorNDTV is the one stop site for all your health needs providing the most credible health information, health news and tips with expert advice on healthy living, diet plans, informative videos etc. You can get the most relevant and accurate info you need about health problems like diabetes, cancer, pregnancy, HIV and AIDS, weight loss and many other lifestyle diseases. We have a panel of over 350 experts who help us develop content by giving their valuable inputs and bringing to us the latest in the world of healthcare.