Too Many People Unnecessarily Die From Stroke
Strokes strike nearly 800,000 Americans each year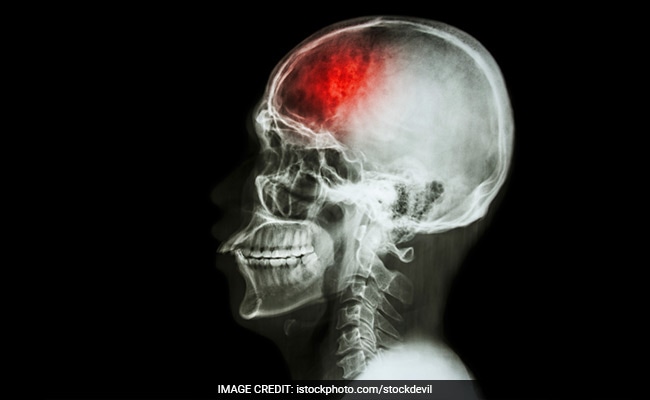 Only 4% stroke patients receive emergency drug which restores blood flow in the brain
HIGHLIGHTS
Life-changing therapies to stroke patients should be provided on time
It can be difficult for doctors to know when someone is having a stroke
Stroke has dropped from No. 3 to No. 5 as a cause of death in the US
Recently, I cared for an 82-year-old grandfather who was having some trouble opening a jar of jelly. Twenty minutes later, the fork he was using fell out of his hand. Feeling tired, he laid down, and on waking four hours later, he and his wife discovered that his arm was flaccid. That's when they called 911 and he was taken to a local hospital. The hospital wasn't a specialized stroke center and transferred him to Yale New Haven Hospital, where I work and where he arrived two hours after his original emergency response call - and almost seven hours from when his symptoms first started. That was too late to prevent permanent disability.
As a neurologist, every single day I am left unable to help victims of stroke, despite an effective treatment in hand, simply because they arrived too late. The blood clots in the brain that cause strokes irreversibly change who we are and burden our families. Strokes strike nearly 800,000 Americans each year, killing 140,000 and at a cost to society of $34 billion annually, according to the Centers for Disease Control and Prevention.
It doesn't have to be this way.
For over two decades, neurologists and emergency providers have had a drug available that can restore blood flow to the brain, limiting damage, but only 4 percent of stroke patients receive the medication. The drug, known as tissue plasminogen activator (tPA), is a potent blood thinner and was approved as an effective clot-busting treatment by the Food and Drug Administration in 1996.
The rub is that patients must receive the medication in the first few hours after experiencing a stroke for it to work.
It's not the only powerful new tool against strokes. Since 2015, at least eight international trials have shown the efficacy of a mechanical clot-removal procedure that can restore blood flow. The possible window for this treatment can be as long as 24 hours in some patients, but as with tPA, earlier is always better. When 2 million brain cells die for every minute without blood flow, time is brain.
The truth is that it can be hard even for doctors to know when someone is having a stroke, and that uncertainty can prevent timely treatment. How do you know whether your arm has fallen asleep or instead is acutely paralyzed? What is the difference between having trouble getting the words out vs. having low blood sugar or too much to drink? Patients with stroke usually don't have pain, which is often a pretty strong motivator for seeking help in any other medical condition. And by the way, how are you supposed to call 911 when you are alone, paralysed and unable to speak?
To improve stroke survival, hospitals and communities have deployed large public health campaigns to improve awareness of symptoms and encourage a swift response. Many hospitals use telemedicine to connect stoke neurologists to patients around the clock. Emergency departments have improved protocols to speed up brain scans to rule out bleeding - the one critical diagnostic test needed before treatment. Yet, even with this incredible effort, 96 percent of patients do not get access to tPA in time.
These efforts are important but not enough. Acute stroke care requires innovation in three broad areas: stroke diagnosis, pre-hospital technology and communication, and coordination of care from field to hospital.
Patients should not have to wait until hospital arrival to confirm a stroke diagnosis. High-risk patients living in nursing homes or undergoing cardiac procedures should have monitoring systems to help alert health providers immediately. Point-of-care blood tests that can help diagnose a possible stroke should be used in the field. Brain imaging technologies and personnel trained to use them should become standard of care in every ambulance.
Until today, such improvements might have been prohibitively expensive. However, advances in affordable, portable brain imaging technology will spur its adoption by emergency responders. The cost-savings from preventing brain damage in thousands of patients who otherwise would need long-term care promises to be dramatic.
Beyond that, pre-hospital triage and communication needs to be reorganized: Ambulances should have communications capabilities that can connect radiologists, neurologists and emergency physicians to first responders and patients in the field. Today, ambulance companies with different abilities to communicate with regional hospitals respond to emergency calls. Better communication means that patients could then receive medications earlier and arrive at the appropriate facility earlier, avoiding unnecessary transfers from one emergency room to the next. This will require much better coordination among the sometimes competing emergency management companies.
Not all is gloom and doom for someone who has suffered a stroke. In fact, quite the opposite. Decades ago, when neurologists saw a stroke patient, their job was simply to "diagnose and say adios," as it was put then. Today, with new medicines, including those that treat high blood pressure, we have made great strides in stroke prevention. And neurologists like me have new acute treatment options - because research has made them available. As a result, in the past 15 years, stroke has dropped from No. 3 to No. 5 as a cause of death in the United States.
Stroke care has changed for the better, but there is an urgent need to mobilize efforts to deliver these proven life-changing therapies to every stroke patient in minutes, not hours, if we are to realize the full gains of decades of investment. We have to. You don't have to be a brain surgeon to recognize the benefits.
- - -
(Sheth is chief of the Division of Neurocritical Care and Emergency Neurology and associate chair of Clinical Research for the Department of Neurology at Yale School of Medicine and Yale New Haven)
(This story has not been edited by NDTV staff and is auto-generated from a syndicated feed.)
DoctorNDTV is the one stop site for all your health needs providing the most credible health information, health news and tips with expert advice on healthy living, diet plans, informative videos etc. You can get the most relevant and accurate info you need about health problems like diabetes, cancer, pregnancy, HIV and AIDS, weight loss and many other lifestyle diseases. We have a panel of over 350 experts who help us develop content by giving their valuable inputs and bringing to us the latest in the world of healthcare.