Here's How Karan Johar Lost 17 Kgs In 4 Months
Karan's workout routine included water workouts and weight training at least 4 times a week, on an alternate basis.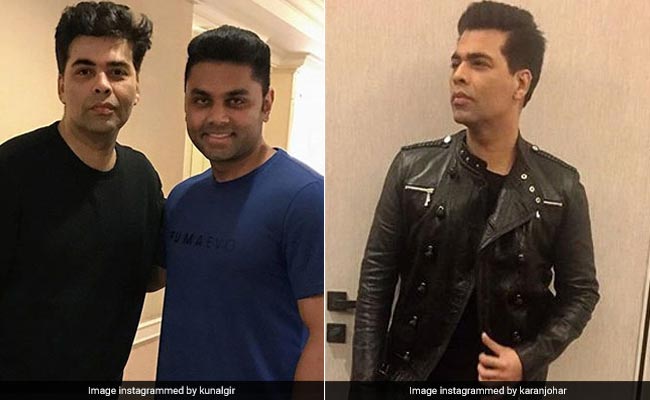 Karan Johar along with his trainer Kunal Gill (Right)
HIGHLIGHTS
Karan Johar included swimming in his fitness routine
The secret to his fit body is water cardio exercises
He gave up on sugar and carbs to shed those extra kilos
Maintaining a healthy lifestyle when you're 'the' Karan Johar of Bollywood is not an easy task. To maintain that stately stature, you need to be at your toes at all times, keeping a track of your fitness routine and day-to-day diet consumption. And Karan, a father of the two and one of the biggies of B-town, seems to master the art of being fit as he managed to lose 14 kilos in matter of only 4 months! With the assistance of his fitness trainer Kunal Gir, Karan underwent a transformation he'd been waiting for. Here are the details:
Workout regime
Kunal says that Karan's workout routine included water workouts and weight training at least 4 times a week, on alternate basis. Given Karan's love for swimming, Kunal included high-intensity cardio water workouts as a replacement to regular cardio exercises. After all, workouts need to be fun for us to do them efficiently and effectively.

Also read: Why Blindly Copying Celebrity Workouts May Not Work For You
Water cardio sessions have proved to be effective, recreational and physical activities for a variety of individuals. Helpful in building up of bones and muscles, water workouts are more difficult to do because water reduces the effect of gravity and weight to a bare minimum.
Diet regime
Diet plays an important role when on a weight loss expedition. No matter the hard work we put in exercising, having a healthy diet in controlled portions is very crucial. So, Karan followed a diet which was devoid of sugar and carbs, and included lots of organic vegetables and proteins like meat and eggs.

Also read: Top Celebrities Do Theraband Exercises. Here's Why You Should Do Them Too
He ate meals in small portions after every 3 hours. He focused on consuming lots of fibre and cooked his food only in macadamia nut oil. Furthermore, he consumed eggs which were high in omega-3 fatty acids.
There's definitely a great deal of particularity which has gone in shedding 11 inches and 17 kgs in a matter of only 4 months, indeed!