Higher Rate Of Morning Heart Attacks Not Due To BP
Further research is required to study people with different vulnerabilities and risk factors for cardiovascular disease.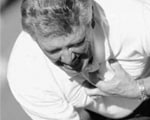 Normal daily fluctuations in blood pressure aren't linked with the well-documented fact that people are more likely to suffer a
heart
attack or stroke in the morning.
Increased blood pressure is a major risk factor for adverse cardiovascular events.
Researchers in the United States sought to identify the role of the internal human body clock (circadian rhythm) in the daily rise and fall in blood pressure. They studied 28 people without high blood pressure who underwent three types of sleep/wake cycle experiments designed to assess the connection between the internal body clock and the daily rise and fall in blood pressure. Before the study, participants maintained a regular sleep-wake schedule at home (16 hours of scheduled wakefulness with eight hours of scheduled sleep) for two to three weeks to stabilize circadian rhythms. They then underwent two baseline days and nights in the laboratory with the same sleep-wake schedule as at home, followed by a prolonged laboratory protocol designed to separate internal circadian effects from behavioral and environmental effects on blood pressure and other physiological variables. These controlled behavioral and environmental conditions included activity, posture, meals, sleep, room temperature, and light. The researchers measured core body temperature to track circadian time.
The three protocols, carried out in dim light to avoid resetting any of the body's circadian rhythms, included