Longer maternity leave, higher rate of breastfeeding
Women who stay home longer after having a baby are more likely to breast-feed their babies.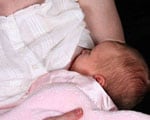 Women who stay home longer after having a baby are more likely to breast-feed their babies.

The benefits of breastfeeding for infant and maternal health are well known. Current recommendations encourage exclusive breastfeeding for the first 6 months of life. Work-related issues have been repeatedly noted as a major reason for non-initiation and early cessation of breastfeeding. Lack of supportive work environments, such as provision of lactational facilities and paid maternity leave, have been cited as barriers to breastfeeding initiation and prolonged duration. Many women have to return within six weeks of giving birth. But it takes time to establish breast-feeding and not every baby is born knowing how to breast-feed. Mothers can have feeding challenges and mom and baby need time to become in sync with each other. Even with high rates of breast-feeding initiation, when women have to go back to work, they often choose to combo-feed with bottle and breast, and the bottle undermines breast-feeding.

Previous studies examining the relationship between maternity leave length/time of return to work and breastfeeding initiation and duration had limitations of small sample sizes and limited generalisability due to sample characteristics. To get a better idea of the impact of maternity leave length on breast-feeding, researchers reviewed data from the Early Childhood Longitudinal Study-Birth Cohort in America. The objective of the study was to determine the effect of 3 slightly different but related factors (total maternity leave length, paid maternity leave length, and time of return to work) on breastfeeding initiation and duration. The group included a nationally representative sample of 6,150 women who had given birth to a single child. All of the women had worked in the 12 months leading up to the birth of their child.

Researchers found that new mothers who were at home for three months or more were about twice as likely to be predominantly breast-feeding beyond three months.

Slightly more than two-thirds of the women started breast-feeding. About 74 percent of those who took at least 13 weeks of maternity leave initiated breast-feeding, compared with about 65 percent of women who took one to six weeks of leave. Among women who stayed home more than three months, 34 percent continued to predominantly breast-feed for more than three months, compared with 18 percent of women who returned to work one to six weeks after childbirth, it was found.

The researchers suggest that leave policies (unpaid/paid maternity leave) should be instituted at all governmental and organizational levels to enable women to take sufficient time off work after delivery to properly nurture their infants. Informal arrangements between employers and employees that enable women to delay their time of return to work after delivery should be encouraged. The study provides further support to the need to have more maternity leave for women to establish and promote the continuation of breast-feeding.
-------------------------------- Advertisement -----------------------------------