How to have healthy teeth?
Being regular with mouth and tooth care can help you avoid tooth loss, painful gums and other dental problems.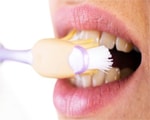 Brush your teeth at least twice a day with fluoride toothpaste.


Floss your teeth at least once a day.


Don't smoke or chew tobacco.


Look inside your mouth regularly for sores that don't heal, irritated gums or other changes.


See your dentist regularly.