Caring for your child's teeth
Start brushing as soon as your child's first teeth appear.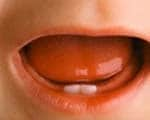 Start brushing as soon as teeth appear.


Brush thoroughly twice a day, especially before bed.


Help the child brush until he is able to do it well on his own.


Use tooth paste that is low in fluoride as children tend to swallow it. and a Also encourage them to spit well.


Reduce the child's sugar intake.