What should you eat during pregnancy?
Pregnancy is time of increased nutritional needs, both to support the rapidly growing fetus and to allow for the changes occurring in the body.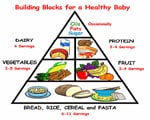 Milk and milk products: Dairy products provide numerous nutrients and are especially high in calcium and proteins.


Cereals/grains, dals and other pulses: Protein, a major nutrient in this group, is necessary for growth of new cells and replacement of old ones.


Vegetables: These provide vitamins A and C among other vitamins, minerals and fibre, which can help relieve constipation.


Fruits: Oranges, grapefruit, melons and berries are the best sources of Vitamin C.


Meat, fish and poultry: This food group like cereals and pulses provide with proteins necessary for growth and development of the baby.