Don'ts during pregnancy
There are some things you should refrain from during the course of your pregnancy.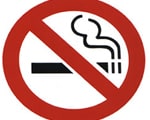 Avoid taking more than 8,000 units of vitamin A per day.


Don't do anything that can raise your body temperature too high (hot tubs, saunas or steam rooms).


Smoking, drugs, alcohol and junk food should all be avoided during pregnancy. Try and reduce stress and tensions from life.


Don't take over-the-counter medications or herbal remedies without first consulting your obstetrician.


Cut down on caffeine as excess consumption during pregnancy is associated with prenatal risks.