What Are Antioxidants? 6 Health Benefits
You've been told that you should eat more blueberries, kale, and green tea because these are antioxidant super foods. Read on to know about the health benefits of antioxidants.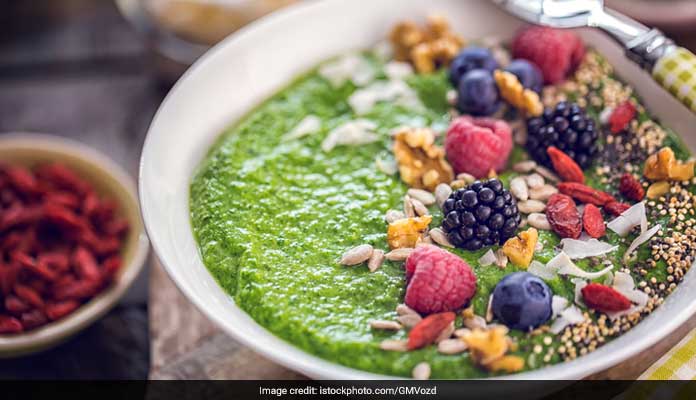 Steady intake of antioxidant can help ensure you don't fall prey to cell damage.
You may have heard this a lot of times. Grapes have a lot of antioxidants. Eat them. Ever wondered why are these
antioxidants
good? For the uninformed, antioxidants are substances that prevent cell damage. They inhibit oxidation, a process where harmful molecules called radicals damage cell membranes and proteins like DNA. This happens when oxygen is metabolised in our body and these free radicals are created, who then steal electrons from other molecules and damage them. Radicals are naturally produced in our body when digestive enzymes break down but may also enter our body when our body breaks down medicines and when we are exposed to pollutants. These free radicals can cause widespread illnesses and diseases like cancer and blood vessel destruction.
Types of Antioxidants
Antioxidants can be man made or natural and are of various types. This includes Beta-carotene, Lutein, Lycopene, Selenium and Vitamin A, C and E. Fruits and vegetables are good sources of these.
Why are antioxidants good for my health?
Well, there are more reasons than one. Antioxidant rich super foods can be extremely beneficial to your body and it is in fact essential for you to maintain a steady intake of antioxidant to ensure that you don't fall prey to cell damage.
Here are 6 ways antioxidants help your body:
1. Sun protection
Antioxidants provide numerous skin benefits, the most important of them being protection from the UV rays of the sun. When our skin is exposed to sunlight, different reactive species of oxygen are created like singlet oxygen, superoxide radicals, and peroxide radicals that cause photo-oxidative damage to the skin. The damage can generally been seen in the form of sunburn, premature aging of the skin and skin cancer. Antioxidants like Astaxanthin, Beta-carotene, and Vitamin E are effective against these reactive species and help protect our skin.
2. Skin benefits
Antioxidant substances like ubiquinone increase our blood circulation and cell metabolism. So are powerful in calming down skin inflammation and even reducing acne and wrinkles. As the antioxidants neutralise the radicals in our skin, they are also efficient in reducing scar tissues. Particularly, the antioxidant Allium boosts blood flow to the scar tissues and works on reducing the marks.
3. Immune system strengthening
Singlet oxygen molecules can catalyze free radicals and damage the immune system. Antioxidants like Astaxanthin and Spirulina have been shown to enhance both the nonspecific and specific immune system by protecting cell membranes and cellular DNA from mutation. The Astaxanthin is particularly efficient in killing the radicals and is considered to be much more stronger than other antioxidants in strengthening the immune system. Spirulina, similarly, boosts production of immune system saving compounds in our bodies.
4. Prevents Heart Diseases
Clinical trials held by the Harvard School of Public Health found a significant 24 percent reduction in total cardiovascular mortality in 39,876 women who were given a Vitamin E rich diet for 10 years. Intake of beta-carotene and Vitamin C are also considered to have positive effects in reducing heart diseases in men and women. Not just this, another kind of antioxidants called the flavonoids have been found to be important in maintaining a good heart health.
Must read: Photosynthesis can help treat heart disease
5. Prevents Cancer
Another miraculous benefit of antioxidants is its efficacy in cancer prevention. A randomized trial of selenium in people with skin cancer demonstrated significant reductions in cancer and cancer mortality at various sites, including colon, lung, and prostate. Antioxidants like lycopene are beneficial in maintaining prostate health and avoiding cancer.
Also read: Mix Of Vitamin C And Antibiotics Can Kill Cancers Cells 100 Times Better
6. Protection against eye-diseases
Carotenoid antioxidants like beta-carotene are extremely important for eye-health. A six-year trial Harvard School of Public Health called the Age-Related Eye Disease Study (AREDS), found that a combination of vitamin C, vitamin E, beta-carotene, and zinc offered protection against the development of advanced age-related macular degeneration in people who were at high risk of the disease. Studies also show that the antioxidant Lutein is effective protecting vision.
Needless to say, consuming antioxidant-rich foods is a good bet to save yourself from skin disorders, heart and cancer problems. Make sure you include antioxidant superfoods like pomegranate and grapes in your diet.
DoctorNDTV is the one stop site for all your health needs providing the most credible health information, health news and tips with expert advice on healthy living, diet plans, informative videos etc. You can get the most relevant and accurate info you need about health problems like diabetes, cancer, pregnancy, HIV and AIDS, weight loss and many other lifestyle diseases. We have a panel of over 350 experts who help us develop content by giving their valuable inputs and bringing to us the latest in the world of healthcare.