Shocking: Doctors Find 27 Contact Lenses In 67 Year Old's Eye!
A strange blueish mesh was discovered by the doctors in the woman's eye who had actually come for cataract operation. The lenses were removed after a long diagnosis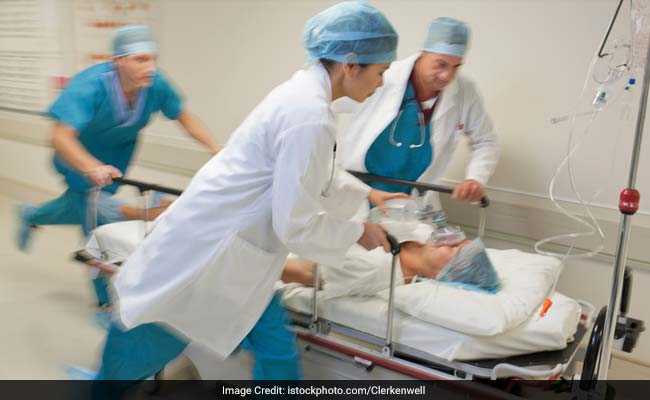 27 lenses were found lodged in the women's eye
HIGHLIGHTS
Initially only 17 lenses were discovered
The blueish mess found in the eye surprised the doctors
She had been wearing the lenses for past 35 years
Doctors in UK found 27 contact lenses stacked in a 67 year old woman's eye while they were preparing her for cataract surgery. The "blueish mass" in one eye that the doctors had taken for a cataract was actually a mass of contact lenses stuck in her eye. The mass was causing the 67-year-old patient intense pain and irritation in the eye which she had attributed to dry eye and old age. The incident occurred in November last year but only came to light when the case was published in the British Medical Journal.
According to the medical reports, the eye specialists at the hospital initially discovered 17 lenses "bound together by mucus", before a further diagnoses showed that another 10 lenses were lodged in her eye.
Going by the information published in the journals, doctors said the patient had worn monthly disposable lenses for 35 years. "She had poorer vision in the right eye and deep set eyes, which might have contributed to the unusually large number of retained foreign bodies," the article in the journal said.

Also Read Health information on contact lenses
"It was such a large mass. All the 17 contact lenses were stuck together. We were really surprised that the patient didn't notice it because it would cause quite a lot of irritation while it was sitting there," Rupal Morjaria, a specialist trainee ophthalmologist, was quoted by the journal as saying.
The cataract surgery was immediately postponed after the discovery since the prolonged time for which the contact lenses were in her eyes would have increased the risk of endophthalmitis.
"Because she had harbored these contact lenses in her eye for an unknown length of time, if we had operated she would have had a lot of bacteria around her conjunctiva," Morjaria said
"She was quite shocked. When she was seen two weeks after I removed the lenses she said her eyes felt a lot more comfortable."
Expressing their amusement, the doctors said- "None of us have ever seen this before. It was such a large mass."
The woman did not report any symptoms of this prior to the surgery.

(With inputs from PTI)