Foods to avoid while breast feeding
Coffee, alcohol, spicy food and strongly flavoured foods should be avoided while breast feeding.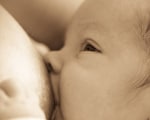 A daily cup or two of coffee is fine, but too much caffeine can interfere with your baby's sleep or make him fussy. Remember that caffeine is also found in some sodas, teas, and over-the-counter medicines.


Having more than one drink increases your blood alcohol level to the point that the alcohol gets into your milk.


Spices such as garlic, cucumber, chili, cinnamon, and pepper should be avoided during breastfeeding. They might lead to gas problems in the baby, producing bloating and colic symptoms.


Avoid freshwater fish from waters that are known to be contaminated. Also while consuming meat, cut off the fatty portions, before cooking them.


Strongly flavoured foods like garlic change the taste of the breast milk. If you baby starts avoiding breast milk, it is better to check whether you had some strong flavored food in the recent past and avoid the same in the future.